A life-changing decision
Travel was how our little family started – my husband and I met in Bali 24 years ago – and travel is still our passion. So the idea of ​​taking our kids to see more of the world had been simmering for a while.
With high school looming for Louise, the window on that timeout was quickly closing.
The shock of being locked down due to the pandemic and some sad events within our wider family drove the certainty that life is indeed short.
So we quit our jobs – jobs we loved. It was one of the defining decisions of our lives and it took a lot of planning and work
There was no way we would give up our affordable rent in Perth's abysmal rent. So we convinced our landlord to let us sublet the house for the duration of our trip, and packed 12 years of family life into a 3 x 3 storage unit.
Marie Kondo would have been proud to see our roadside side collection.
Bravely, the kids said goodbye to most of their toys, forcing me to face the madness of my wardrobe.
We have sold both of our cars and anything else that the traveling cat might bump.
This process took several months, culminating in what I now call hell week. We packed, we cleaned, we carried furniture from dusk to dawn.
With a huge surfboard suitcase, a loose map of destinations and the goal of learning Bahasa Indonesia, we lugged our kids to Perth Airport and boarded a plane to Denpasar last December.
We were so exhausted from the hell week that when we got to Bali we didn't leave our lounge chairs for three days.
Homeschooling in Paradise: The Pleasure and the Pain
After two months of enjoying the sweet life, languishing on the beach and drinking coconuts, apart from all schedules, the start of school came as a shock to all of us.
The children are enrolled in the School of Isolated and Distance Education (SIDE), which was established to educate children in the outback. It has now evolved to serve traveling families like ours
Loaded with materials and books, we are now homeschooling and dragging a 15kg school bag wherever we travel through the archipelago.
While Louise enthusiastically went to work on it, Sam and I went to war. Unsurprisingly, he struggled with the idea of ​​me being his teacher and sitting still when there were hermit crabs to race or a puppy dog ​​nibbling his pants.
Under bribes and punishment, we dragged ourselves through math, English, and science.
"I miss school," Sam sighed more than once. "It's just different when I do it with my friends."
We've taught in a restaurant on the coral-clad coast of Amed in northern Bali, at the dinner table of a homestay in Simeulue, an island off Aceh, and on a porch amid torrential downpours in the Mentawais.
It's important to us that the kids don't fall behind, but apart from a dedicated effort to learn Indonesian and surf, we embrace the life lessons of travel.
In conservative Aceh, the children were immersed in local life and learned about cultural sensitivities.
They accompanied us to our host family's daily market visits and made friends who visited the school, practicing each other's language skills.
Louise still has an active exchange with little Hafizah and is committed to the cross-cultural phenomenon of making TikTok videos. Amazingly, even in villages where electricity would be a relatively recent addition, everyone owns a telephone.
We've been invited to not one but three weddings so far, where Sam was dragged from one grandma's lap to the next, cheeks squinted, patiently accepting the barrage of phones in his face. In the more remote places, our appearance still causes a stir.
Wherever we go, there's a bunch of kids to run around with playing coconut rugby, climbing trees to pick exotic fruits or chasing each other across the beach.
The children have learned to accept a simple life, in wooden huts without electricity, a nearby toilet or hot showers.
Thresholds have been tested and fears conquered when paddling in the thundering surf or picking leeches off little legs after a jungle hike.
Coincidentally, it was my 10-year-old daughter who held my hand when a boat ride turned terrifying in the midst of a tropical downpour.
Every so often the days – satisfyingly salt-coated and crowned by fireball sunsets – are overtaken by melancholy and a serious dose of homesickness.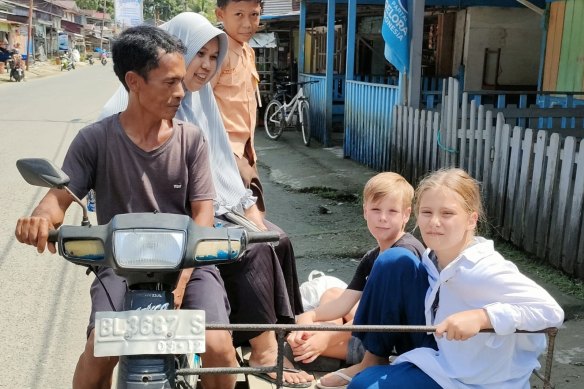 They miss their own bed and especially their friends. And tears have been shed. They worry that life in Australia will go on without them, that they've missed a major basketball final, if their old friendships continue.
And sometimes doubt creeps into our decision with the sudden change from too few hours in a day to very few distractions.
Should we have built on a house down payment instead of splurging on this daring midlife break? Fear sets in, knowing I have no job to return to.
Loading
While we longed to be with our kids more and be present for them, living together in this tightly bound four pack 24/7 brings its own challenges.
Often we all share a room. And with no room to escape, there was a lot of barking at each other and a fair amount of foul language.
Despite the friction, we have reached a new level of attachment to our children.
I discovered new things about them. Little hidden talents I hadn't seen before. An admirable level of thoughtfulness and empathy. See how flexible they are.
Children are proof of how little intercultural understanding depends on speaking the same language. And I can see how our experiences help them become open-minded and autonomous people who understand there is a world beyond their middle-class suburb of Perth.
During the nightly walks to the local food stalls, a small hand often finds itself in mine – something I thought is now a thing of the past. And there are the a million questions that are asked.
I'm not sure where they were when we were trapped in the rigors of our old lives.