The U.S. Food and Drug Administration (FDA) has granted a Breakthrough Device Designation to Cognixion's brain-computer interface (BCI) integrated with augmented reality (AR) for assistive communication. This breakthrough technology aims to improve the lives of people with communication disabilities, including those suffering from neurodegenerative diseases, spinal cord injuries and other conditions.
Cognixion has been working to revolutionize assistive technology by developing an innovative BCI-AR system. This state-of-the-art device has the potential to provide an effective communication solution for individuals with limited mobility or speech impairments, enabling them to communicate more easily and autonomously with the world around them.
The FDA's Breakthrough Device Designation is granted to new technologies that have the potential to provide significant advantages over existing options for diagnosing, treating, or managing life-threatening or irreversibly disabling conditions. This status will speed up the regulatory review process, potentially allowing the device to go to market faster and benefiting patients faster.
Cognixion's BCI-AR system uses non-invasive technology to capture and interpret brain signals, enabling users to control a virtual keyboard or other computer interfaces with their thoughts. The integrated AR component provides an intuitive, immersive experience for the user, enabling more natural communication and interaction.
The technology has undergone preliminary clinical testing, which has shown promising results in enabling people with reduced mobility to communicate more effectively. Further research and development, as well as clinical trials, are needed to refine and validate the safety and efficacy of the technology.
The FDA's breakthrough device designation for Cognixion's BCI-AR System marks an important milestone in the development of assistive technologies for individuals with communication disabilities. The potential impact of this innovative technology could improve the lives of millions of people, promoting greater independence and social interaction for those who struggle to communicate due to physical limitations.
The Cognixion One headset
The company's Cognixion ONE headset is where the BCI and AR combine to provide a more intuitive and immersive communication experience for individuals with communication disabilities, such as those with neurodegenerative diseases, spinal cord injuries, or other conditions that limit mobility or speech .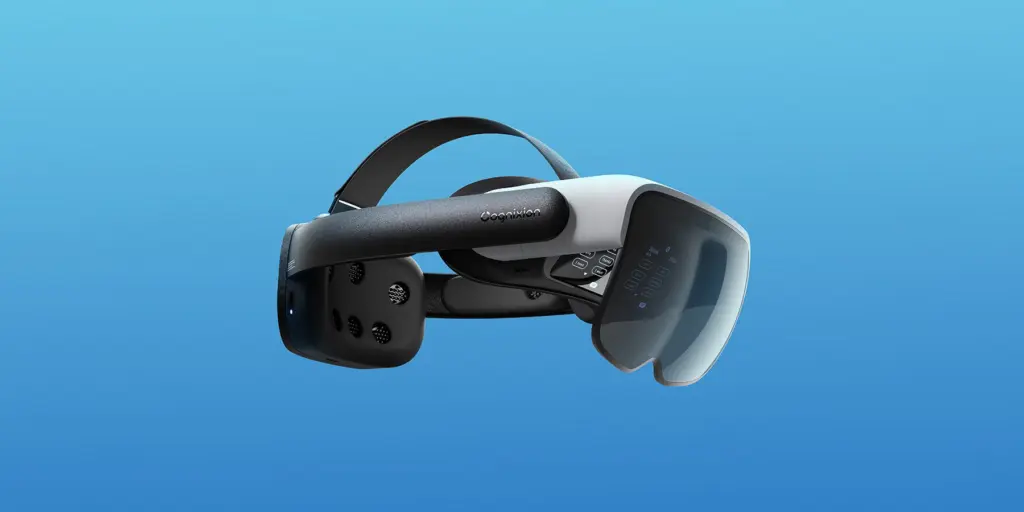 The headset features high-definition displays, dry electrode EEG sensors and advanced control systems such as AI-driven signal processing, touch controls, eye tracking and gesture controls. The Cognixion ONE runs on the Cognixion OS, which is built on the Android platform, and offers connectivity options such as Wi-Fi and Bluetooth.
| Function | Specification |
| --- | --- |
| Display | 1280 × 720 pixel high-definition resolution per eye with 16:9 aspect ratio, adjustable eye relief |
| Sensors | EEG (electroencephalogram) sensor array with dry electrodes, 9-axis inertial measurement unit (IMU), pupil tracking system |
| Control system | BCI (Brain-Computer Interface) with AI-driven signal processing, touch control, eye tracking, gesture control |
| Audio | Built-in stereo speakers, 3D spatial audio, noise-canceling microphones |
| Operating system | Cognixion OS, built on Android platform |
| Connectivity | Wi-Fi (2.4 GHz and 5 GHz), Bluetooth 5.0 |
| Battery | Up to 8 hours of continuous use |
| Comfort | Ergonomic design, adjustable headbands, lightweight and breathable materials, comfortable face cushion |
| Compatibility | Compatible with the Cognixion SpeakPRO app, other popular communication apps, PC and Android applications |
| Language support | Supports multiple languages, with more languages ​​being added regularly |
| Personalization | Customizable avatars, environments, visual and audio feedback settings |
| Accessibility | Access to Cognixion's assistive technology platform for speech, language, and communication |
| Security and privacy | Encrypted communication, Secure data storage, Compliant with privacy regulations (such as GDPR and HIPAA) |
| Support and updates | Regular firmware updates, customer support, access to the Cognixion ONE community and resources |
Equipped with an ergonomic design, adjustable headbands and a comfortable face cushion, the Cognixion ONE headset aims to improve communication, social interaction and independence for individuals struggling with physical limitations. It is compatible with Cognixion's SpeakPRO app, other popular communication apps, as well as PC and Android applications, providing users with a versatile assistive communication tool.