DDesigned to take the back off and replace the battery in minutes, Nokia's new G22 isn't the first self-repairable smartphone. But the Android handset is the first to come in at a budget price.
The new phone costs less than £170 and has replacement parts from just £19. The repairable design sits somewhere between the truly modular £449 Fairphone 4 and the £849 iPhone 14, which is made to make professional repairs easier .
At first glance, the G22 is a normal-looking smartphone without any hint of its repairable nature. But detach the back from the frame using a simple pick tool and you'll find everything is secured with small screws and pull tabs on the inside. It can all be taken apart with a little care without the need for things like heat pads, knives and alcohol, which you would for most other phones.
Finnish company HMD Global, which makes the phone, has teamed up with repair specialist iFixit to create thorough, easy-to-follow guides and sell spare parts for the G22. Hopefully you'll never need them, but if you break the screen or wear out the battery, you can fix it yourself or access inexpensive professional repair options.
On the outside, the G22 has a simple design. The large 6.5-inch LCD screen on the front isn't very sharp, but it has a 90Hz refresh rate, so scrolling and animations are fairly smooth. It was bright enough indoors, but struggled a bit outside in the sunlight. It's covered by Gorilla Glass 3, a much older version of the scratch-resistant glass than available on top phones, but does the job if you handle it with care.
The frame is plastic on the outside and clicks seamlessly into the back made of 100% recycled plastic. It feels much nicer in the hand than you'd expect for the money – a solid piece of equipment.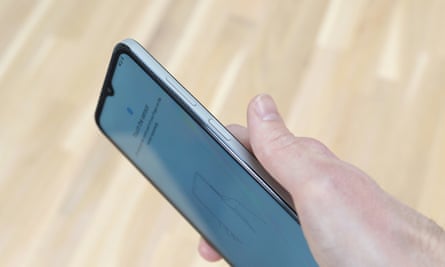 Specifications
Screen: 6.5in 90Hz HD+ (269ppi)

Processor: Unisoc T606

RAM: 4GB

Storage: 128 GB + microSD card

Operating system: Android 12

Camera: 50MP, 2MP depth, 2MP macro; 8 MP front facing

Connectivity: 4G, Wi-Fi 5, NFC, Bluetooth 5.0, 3.5mm Headphones, FM Radio, GNSS

Water resistance: IP52 (rain)

Dimensions: 165 x 76.2 x 8.5mm

Weight: 196g
Three-day battery life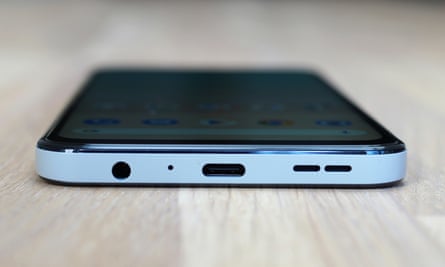 The G22 has a low-performance chip from the Chinese company Unisoc. It's slow anyway, but it feels fast enough in general interactions: the menus appear quickly, the phone unlocks quickly, and the keyboard is responsive.
You have to wait a second or two for more demanding apps like Evernote to open and load content. Some sites in Chrome have trouble loading images as you scroll further down the page and you can forget about playing Fortnite or anything other than simple games.
What the G22 lacks in raw power it more than makes up for in very long battery life. The phone lasted 72 hours in my testing, providing more than eight hours of active screen use with five hours on 4G, the rest on Wi-Fi.
Note the G22 does not support 5G and only has Wi-Fi 5, not the latest 6E. I found it to be fast enough overall, but struggled for a connection in weaker signal areas where other Wi-Fi 6 devices had no problem connecting.
Sustainability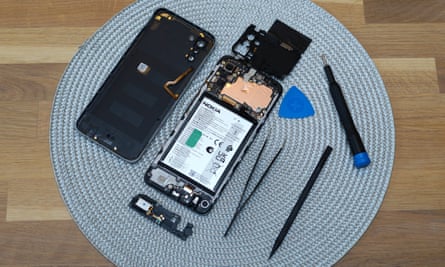 HMD rates the battery to maintain at least 80% of its original capacity for a minimum of 800 full charge cycles. A replacement costs from £22.99. Other parts are also available, including the £18.99 charging port, £22.99 rear and £44.99 screen, while HMD and iFixit publish DIY repair guides.
The back is made from 100% recycled plastic. The company publishes environmental reports and offers circular phone plans, trade-in and recycling schemes, including for non-Nokia phones.
Android 12
The phone runs on Android 12, which was released in 2021 and is a bit disappointing to see since it was replaced by Android 13 in summer 2022. Still, Nokia's version of Android, unlike the version offered by most smartphone makers, comes is used, very close to it. offered directly by Google without extensive modifications. That makes it fast and clear despite the energy-efficient processor. But it also includes some unwanted pre-installed third-party apps, including Booking.com and ExpressVPN, all of which can be uninstalled.
HMD offers two years of major Android version updates and three years of monthly security updates, which is price competitive but poor compared to the best in the market, which offer at least five years of software support.
Price
The Nokia G22 is available in blue or gray and costs £169.
By comparison, the Samsung Galaxy M13 costs £169, the Motorola G13 costs £149, the Google Pixel 6a costs £399 and the Fairphone 4 costs £449.
Pronunciation
The Nokia G22 is a low-end Android smartphone that stands out from the crowd in two ways. It has a very long three-day battery life and an easier-to-repair design that makes DIY repairs realistic.
You don't need any special heating and prying tools as the back snaps off without glue and parts can be unscrewed. You will need some more general tools and a screen repair is still quite labor intensive, but it can be done with enough patience following iFixit's thorough guides. Changing the battery is a lot easier and you can have these components repaired at home, which is the first hurdle in any repair. Hopefully this is the start of a positive trend.
Otherwise, the G22 is a fairly cheap phone. It's pretty slow, the camera is nothing to write home about, it's not running Android 12 the latest 13, and the 90Hz display is OK, but far from great. It's good to see a microSD card slot for adding more memory and a headphone jack. But one of the major drawbacks is a short lifespan of only three years.
No matter how many times you can repair the phone, once it stops receiving security updates, it should not be used.
Advantages: Do it yourself design with manuals and parts available, very long battery life, clean Android version, OK camera, microSD card slot, headphone jack, low cost.

Cons: slow, average screen, only rainproof, only three years of software updates.