Netflix's newly promoted co-CEO spoke publicly at Mobile World Congress (opens in new tab) last week in Barcelona to push back efforts by the European Union to get Netflix and other ISPs to subsidize local internet infrastructure.
Last month, the EU began seeking public input to explore the possibility of making entertainment and technology companies, including Netflix, bear more of the burden for internet infrastructure upgrades.
"Some of our ISP partners have proposed taxing entertainment companies to subsidize their network infrastructure [EU] Commissioner [Thierry] Breton said yesterday that it shouldn't be a binary choice between 'Big Telco' and entertainment companies," Peters said.
First, Peters noted, European consumers are already paying for the Internet infrastructure upgrades needed to stream video through their ISP subscriptions. And Peters doesn't believe the ISPs would necessarily return the money to their customers if they were suddenly relieved of the burden of technology improvements.
And while the EU envisions the tax as largely confined to Netflix, which is considered the biggest driver of internet traffic, broadcasters will soon be relying on the same infrastructure as well.
"As broadcasters continue the shift from linear to streaming, they will also begin generating significant amounts of internet traffic – even more than streamers today based on the current reach and scale of their audience," said Peters. "Broadband customers, driving this increased usage, are already paying for the development of the network through their subscription fees. If entertainment companies – both streamers and broadcasters – have to pay more, ISPs would effectively be charging twice for the same infrastructure."
Peters also said that starting "10 years ago," Netflix began to hear "concerns" that ISP costs would rise disproportionately as Netflix consumption — and profits — increased.
"In line with predictions, traffic has consistently increased by about 30 percent per year," he said. "It turns out that the Internet is very popular. And ISPs have efficiently managed this increased consumer usage while keeping their costs stable. Regulators have also emphasized this, pointing out that infrastructure costs are not sensitive to traffic and that growing usage will be offset by efficiency gains. "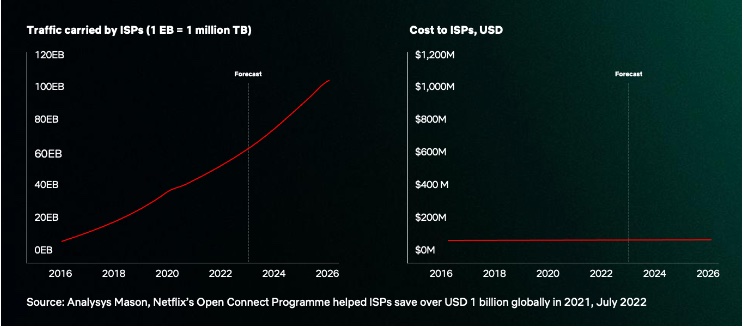 Peters also mentioned improvements to the Netflix infrastructure that have already been made.
"We are commercial partners with more than 160 telcos and ISPs around the world – many of which bundle Netflix directly into their consumer offerings," he said.
"And we've spent over $1 billion on Open Connect, our proprietary content delivery network that we offer to ISPs for free," added Peters. "This includes 18,000 servers with Netflix content across 6,000 locations and 175 countries. So when our members hit play, instead of the movie or TV show being streamed from all over the world, it's streaming from around the corner – increasing efficiency for operators while ensuring a high-quality, no-lag experience for consumers."