Inspired by the free-spirited and playful era of 1970s interior design, Walmart's new Spring Home Look Book, 'Retro Eclectic', is a collection of products aimed at creating an atmosphere of warmth, nostalgia and comfort.
From the timeless beauty of natural textures to a bold use of color and form, the 1970s has definitely made a comeback in interior design trends for 2023 and our favorite picks from Walmart's new Look Book (opens in new tab) show you how to get a retro look reinvented – but for less.
The collection unites the ground tones, tactile textures and classic shapes synonymous with 1970s style with more modern elements, such as cleaner patterns, delicate details and pretty pastels; resulting in a beautiful mix that provides a unique, 'Retro Eclectic' feeling.
Our favorite finds from Walmart's 'Retro Eclectic' Spring Home Look Book
From warm, wooden dining room furniture to colorful artwork, cozy lighting and more, get inspired by this nostalgic product collection and embrace the 'Retro Eclectic' trend in your home.
1. Celebrate the warmth of wood
The Baxton Studio Sumner 5 Piece Rectangular Dining Table Set adds warming and inviting natural colors and texture to a kitchen or dining room. (opens in new tab) has an elegant, Mid-Century look and unites soft curves with clean, linear lines.
The timeless walnut finish brings the beauty of the outdoors inside, creating a grounded and inviting space for socializing, dining and relaxing with friends and family.
2. Create a vintage feel with a patterned rug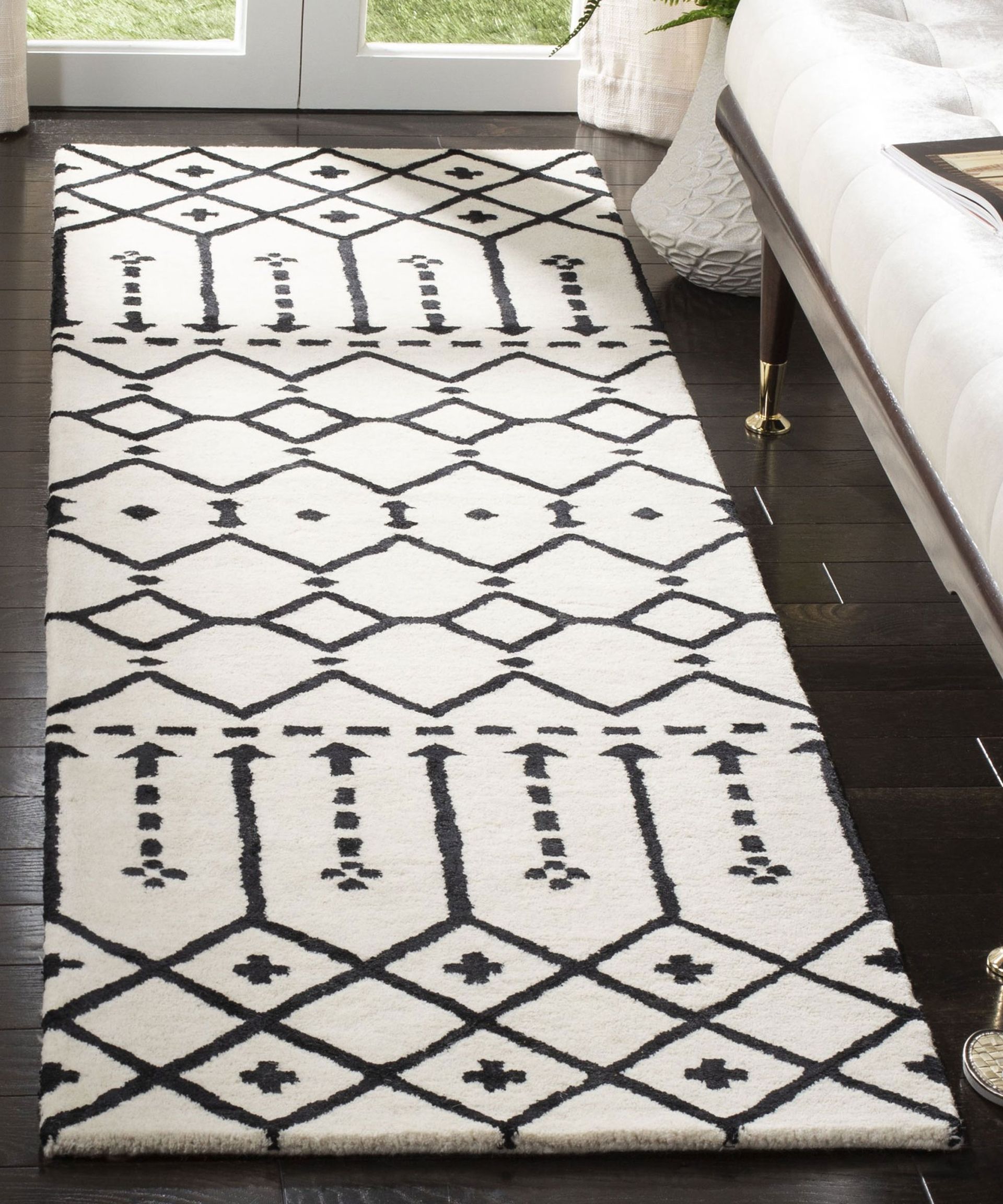 The SAFAVIEH Himalaya Darin geometric wool runner rug in ivory/black adds cozy texture, warmth and a beautiful pattern to your floor (opens in new tab) is a hand-woven design that is made from 100% pure wool.
Available in a black and cream colorway, the patterned geometric design can add striking visual interest to a room while still embracing a relaxed bohemian-inspired style, perfect for a more modern take on vintage decorating.
Ideal for bedroom rug ideas, we love how this rug pays homage to traditional Tibetan rug design and integrates effortlessly into a range of differently styled spaces.
3. Make use of a Grandmillennial style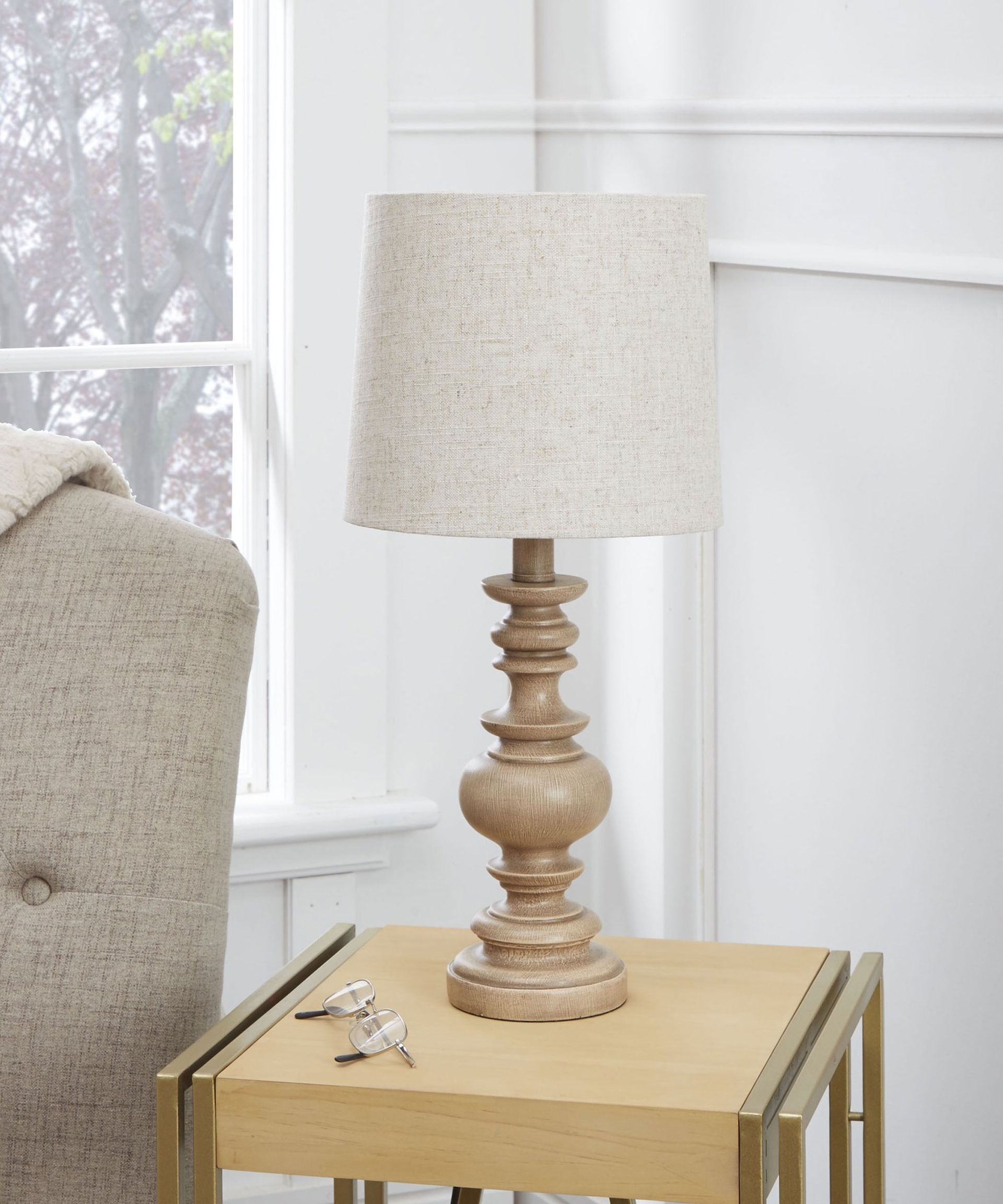 The Grandmillennial interior design trend has a nostalgic appreciation for the past, mixing both antique and modern pieces to create an eclectic and cozy look rich in character and warmth.
The Mainstays traditional table lamp made of brown washed wood (opens in new tab) embodies a simple, yet charming design that would be a perfect accent in a Grandmillennial living room or bedroom.
The neutral, natural colorways and textures complement the warm glow of the lamp, with the overall design easily integrating into both traditional and modern rooms.
4. Impress with color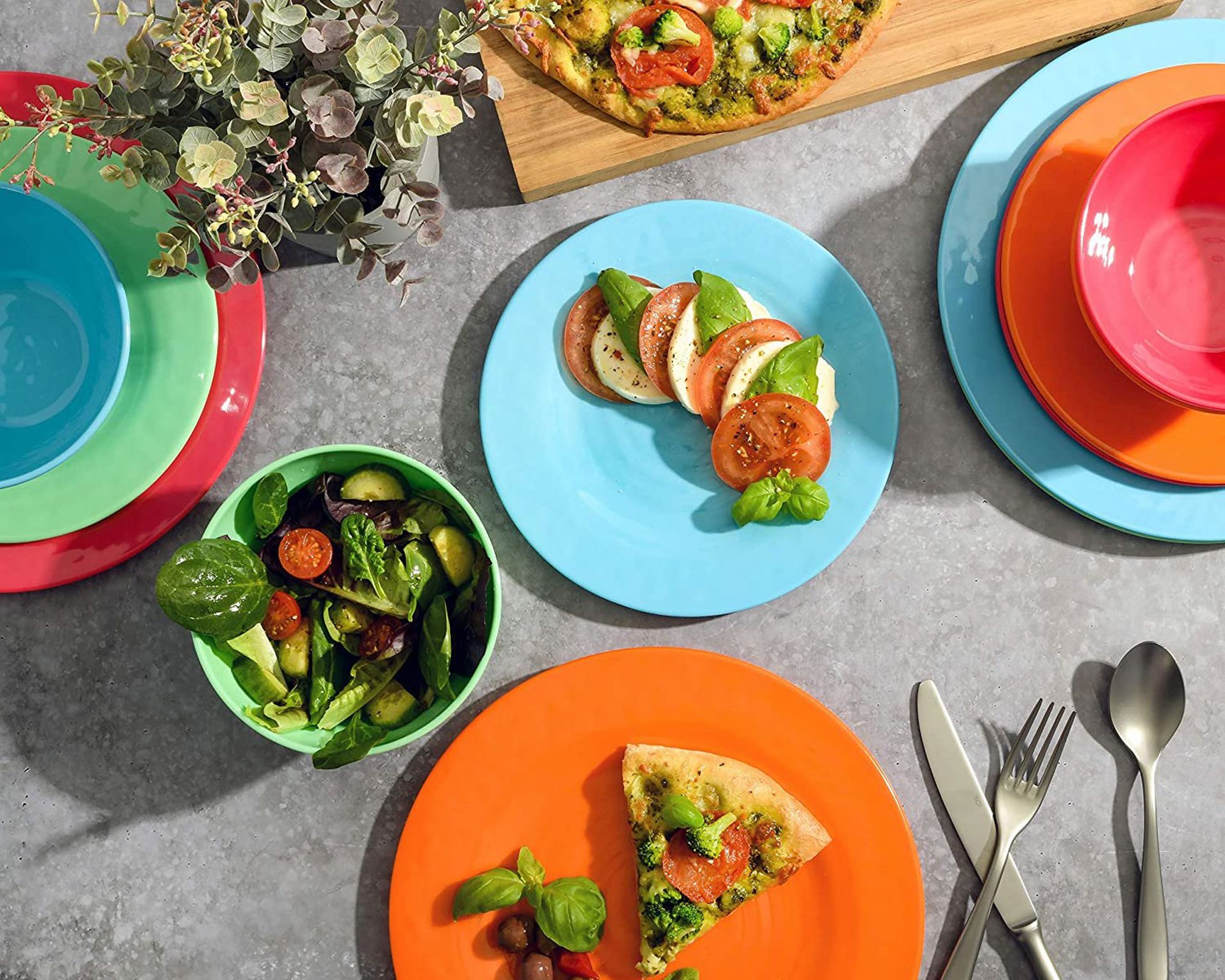 When many of us think of 1970s interior design, we are struck by bright and bold spaces that embrace an impressive use of color.
Adventurous room color ideas (opens in new tab) and more maximalist decor ideas have certainly taken center stage in 2023, with many of us taking bigger risks with color in our homes to create spaces that are more reflective of our style and personality.
If you want to inject a playful element of color into your home without painting the walls, get creative with your accessories.
The Gibson Brist 12-piece melamine dinnerware set (opens in new tab) can brighten up your table setting with eye-catching color and character. The 12-piece set consists of dinnerware in blue, red, green and orange finishes and is perfect for creating a beautiful tablescape during a party with friends and family.
5. Choose soft and smooth curves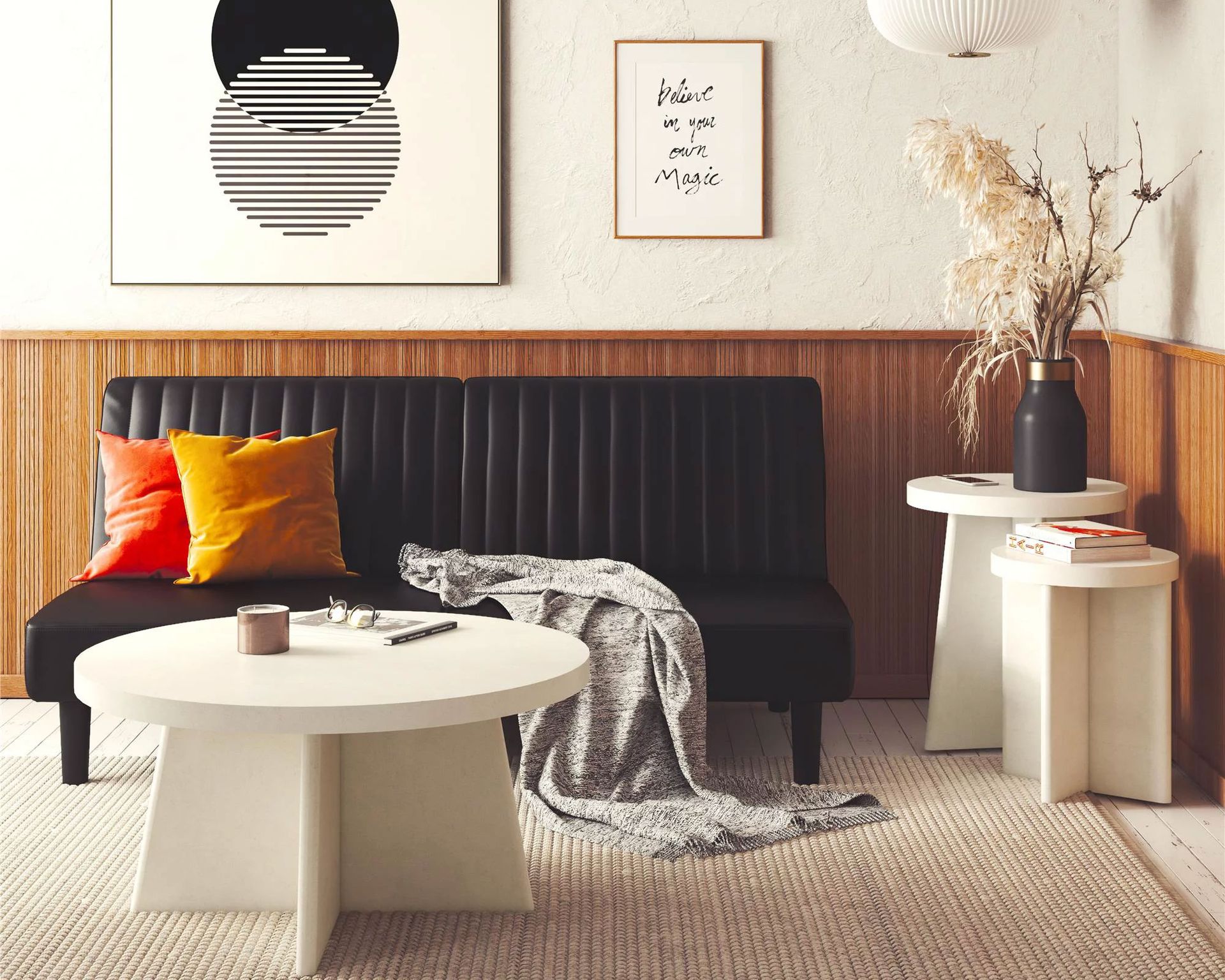 From furniture trends to lighting trends and more, curves really seem to be everywhere in design trends in 2023; with these soft, flowing silhouettes – a look rooted in a 70s style, helping to create more calming, organic and relaxed spaces.
The Queer Eye Liam round side tables (opens in new tab) and coffee table (opens in new tab)part of Walmart's Queer Eye collection (opens in new tab)feel utterly timeless, with the faux plaster finish and simple shapes that can work in spaces that are bright and bold as well as cool and minimalist.
6. Embrace bohemian style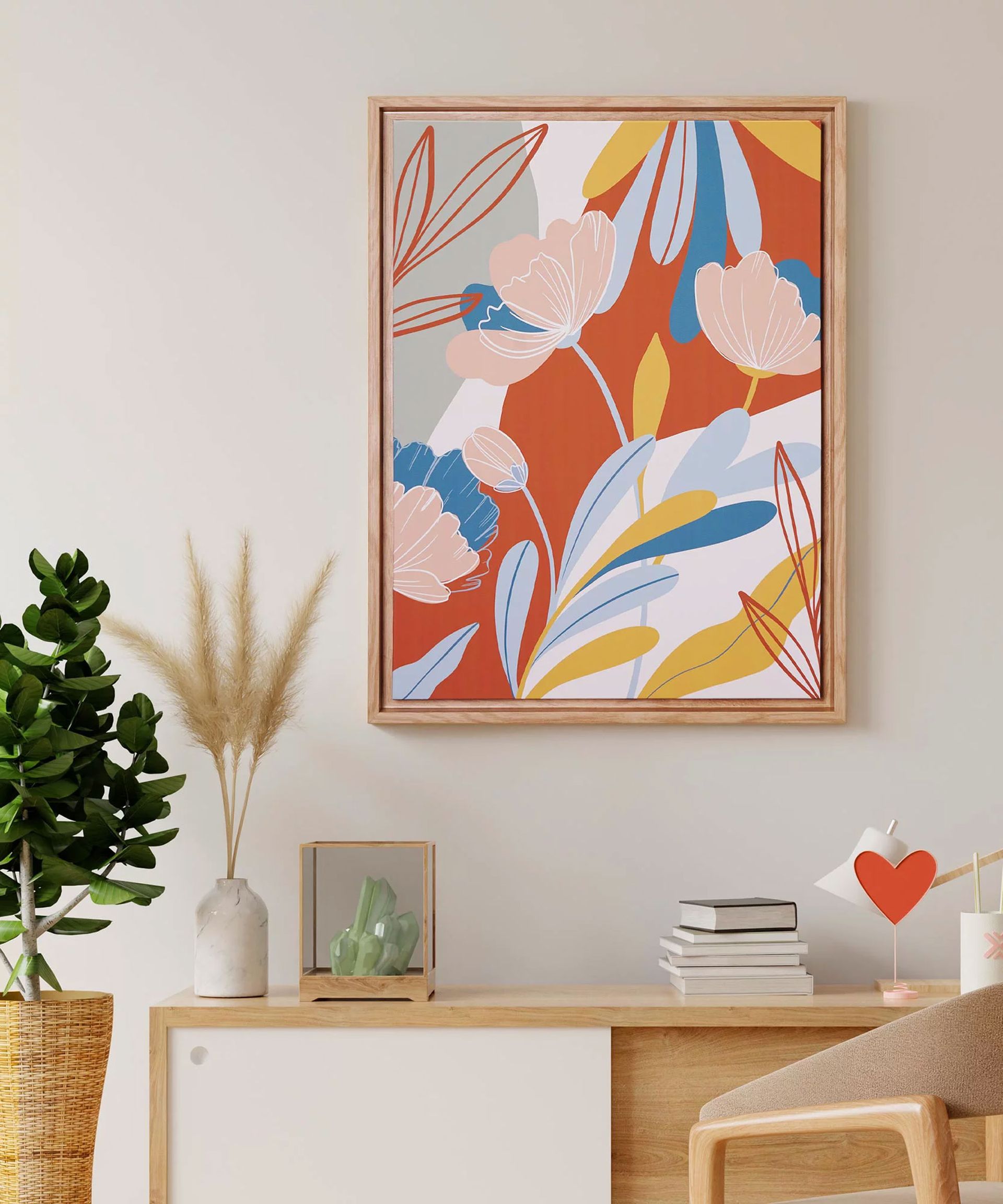 It doesn't get more Retro Eclectic or 70's than with Bohemian inspired decor! A free-spirited and creative style, Boho decor champions the beauty of the natural world, colorful accents and a diverse mix of old and new.
This Boho Floral L-framed canvas (opens in new tab)embodies a colorful, abstract design that can elevate a room with striking, artistic visual interest.
We love the contrast between the bright, animated floral print and the rustic wooden frame, and think the design would look great in rooms throughout the house – great for adding color and character to a home office, as seen above .
What are the interior trends for 2023?
Beyond the colorful return of the 1970s, 2023's interior design trends focus on sustainable, sustainable design, brought about through an elegant blend of old and new; from decorating with antiques and second hand shopping to embracing trends like 'Retro Eclectic'.
Color trends explore both bold brights and the relaxing colors of nature, with green to take over gray as the most popular hue for home paint ideas and more.
The overall interior aesthetic for 2023 feels eclectic, adventurous and diverse, with our homes proudly uniting many different eras and design styles in one distinctive and unique space.
---
Walmart's new Spring Home Look Book, "Retro Eclectic," is a celebration of nostalgic design rooted in the '70s, showing how styles from the past are very much at home in spaces of the present.