Bitcoin markets have been pulling back since mid-February and recent psychological price rejections. However, they remain in a transitional phase according to chain analysis.
In its March 6 "Week On-chain" report, blockchain analytics provider Glassnode noted that Bitcoin prices had been rejected from a range of psychological on-chain levels.
It added that the rejection was related to "older hands from the 2021-22 cycle" and the whale cohort. In addition, last month's BTC pump to $25,000 was also rejected at least four times.
BTC has been contained at current levels with very little volume since Friday's dump to a weekly low of $22,200.
Bitcoin Markets Still Weak
The report also noted that the $23,500 price point was a psychological barrier. It would result in a return to profit for virtually all Bitcoin holders.
"Price breach above $23,500 would reflect a rally above the Old Supply Realized Price, returning the average holder across all cohorts to profits."
The Net Unrealized Profit/Loss metric (NUPL) can be used to indicate market transition phases. Average BTC holders now have a net unrealized gain of about 15% of the market cap.
Glassnode concluded that current market conditions resemble those at the end of a bear market.
"The current state of the market can reasonably be described as a transitional phase, typically occurring in the later stages of a bear market."
In addition, the volume of transfer momentum has increased, signaling growing adoption and the inflow of new capital into the market.
The transfer volume has been growing since January, but remains below the annual average. A break above the 356-day moving average by the 30-day mark would signal the return of "strong capital tides." However, according to the chart, there is still a reasonable way to go before this happens again.
BTC Price Outlook
Bitcoin price has remained mostly flat since March 3, when it dropped more than 5% in an hour. There have been a few breaks over $22,500, but they were quickly dismissed.
BTC is currently trading half a percent higher on the day at $22,525 as of press time.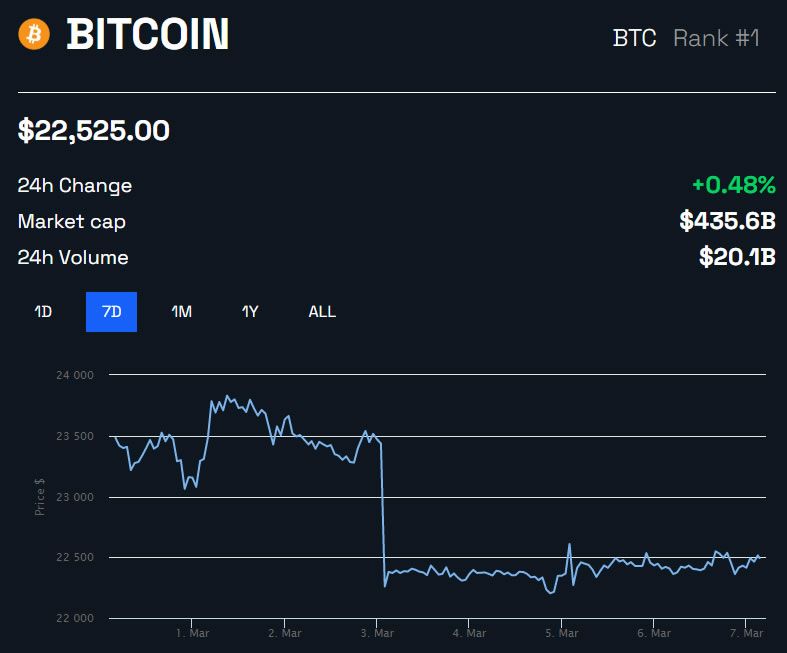 The asset is currently experiencing resistance again and must break through it to avoid a drop to low levels of $22,000. It is currently down 9.2% in the past two weeks and remains in a short weekly downtrend.
Sponsored
Sponsored
disclaimer
BeInCrypto strives to provide accurate and up-to-date information, but is not responsible for missing facts or inaccurate information. You agree and understand that you use this information at your own risk. Cryptocurrencies are highly volatile financial assets, so research and make your own financial decisions.