Sonos is back in the standalone speaker game. After spending the last few years turning its attention to where everyone else was during the pandemic, television, Sonos is releasing two new standalone speakers in late March, the Era 100 and Era 300, for $249 and $449, respectively. the Era 100 being the de facto replacement for the now 10 year old Play:1 (which itself was succeeded by the Sonos One in 2017 and upgraded ever so lightly to the Gen 2 in 2019), the Era 300 is its own interesting mish-mash of Sonos products past and present.
It's not really a Play:3 successor – Sonos made that terribly obvious to me during an interview at a launch event in New York in February – but the size, shape and focus on filling the average-sized room with exquisite, focused sound make it feel like one. These could be the new smart speakers to beat.
Era 300
The Era 300 really is the flagship here: its concave body curves into an hourglass in the middle, giving it both an elegance and an uncomfortably illusory character, depending on your vantage point. The top capacitive controls have been overhauled from previous Sonos speakers, a valley now carved out for sliding volume controls where it was previously just flat, making it easier to turn the volume up or down. Behind the speaker is a physical mute switch for the beamforming microphones – support for Alexa and Sonos Voice Control only, no Google Assistant thanks to pending litigation – and, new to the company's motionless line, a Bluetooth pairing button, which is a welcome addition. sight was, and I certainly share that feeling with many other Sonos users.
The remaining I/O is a solo USB-C port, a multi-purpose input that connects to a separately sold set of accessories that provide Ethernet, line-in, or both (prices to come). The Bluetooth connectivity is welcome, especially after enjoying the Move and becoming frustrated with the Roam in recent years; the need to buy a dongle to access Ethernet, which has been built into all previous standalone Sonos speakers, is a little frustrating, the feeling being offset somewhat by the resurrection of a line-in option, which is currently is limited to the $549 Sonos Five.
Sonos claims that the six drivers in the Era 300 – four directional tweeters that include stereo sides, a front-firing and, new to the speaker line, an upward-firing height tweeter, along with two side-firing woofers – sound better than whatever. company made a speaker of this size, and I tend to agree. I got the chance to listen to the speaker both on its own and as part of an arc front surround system, and it's both enveloping, warm and precise, as all Sonos speakers tend to be. But that height channel is more than just a spec: it's the hub of the company's new marketing campaign, which is why the Era 300 evokes a pause in time, a after when everything used to be.
This isn't the first Sonos speaker to support Dolby Atmos, but it is the first to support it with a focus on music
While this isn't the first Sonos speaker to support Dolby Atmos and thus spatial audio, it is the first designed for music playback, not recreating the deadly action scene Tom Cruise is up to in your living room. imitate. Sonos claims it has worked with countless sound engineers, offering them the Era 300 as a reference speaker to master spatial mixes on songs and albums that support it. I listened to a number of songs mastered for Atmos using Amazon Music Unlimited and while none of them made me turn my head to find the saxophone behind my head, the soundstage and scale of the reproduction was impressive for the size of the speaker . Still, I was impressed with the speaker's low end, especially after years of enjoying the Play:5 and Sonos 5, just $100 more and significantly more powerful, which produce good sub-bass in my living room.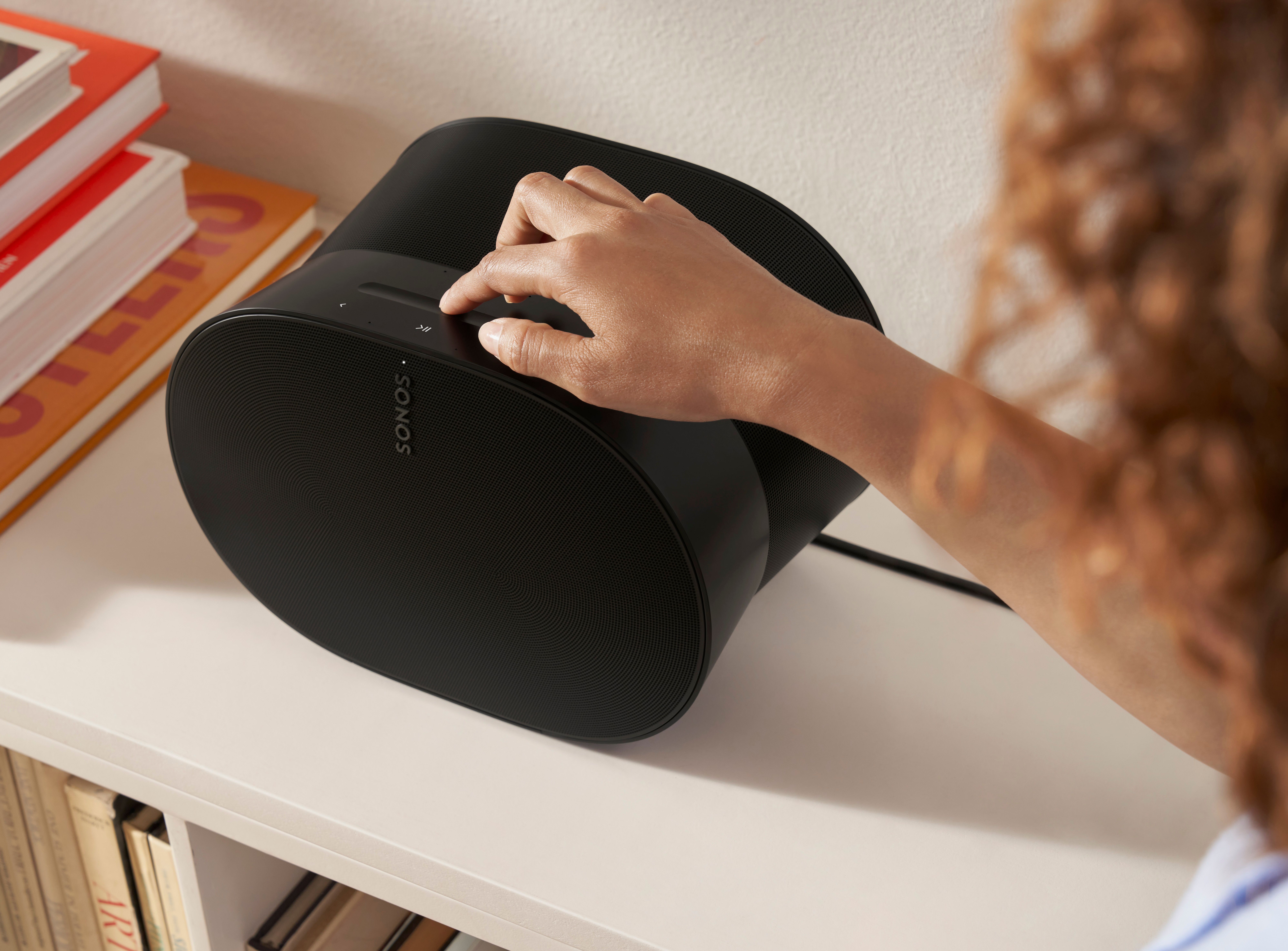 Source: Sonos
The remaining trick of the Era 300 complements Sonos' recent investment in the living room: its ability to act as a true Dolby Atmos surround channel when paired with a Beam 2 or Arc soundbar. Because the speaker can display correct height information when used with a compatible soundbar and paired with a Sub or Sub Mini, a pair of Era 300s can close the circle on a 5.1.2 Atmos system, although purists will argue that to top directional tweeters can't reproduce the height channel with the same enthusiasm as a pair of dedicated in-ceiling speakers. But if you don't want to put holes in the walls, this is a pretty good, albeit expensive, next best thing.
At just under 10 pounds and just over 10 inches wide, the Era 300 is a substantial piece of kit, and one I'm really looking forward to reviewing. It will be available on March 28 in both white and black colorways in a number of countries, including the US, Canada, UK, and much of Europe and Asia, for $449 USD.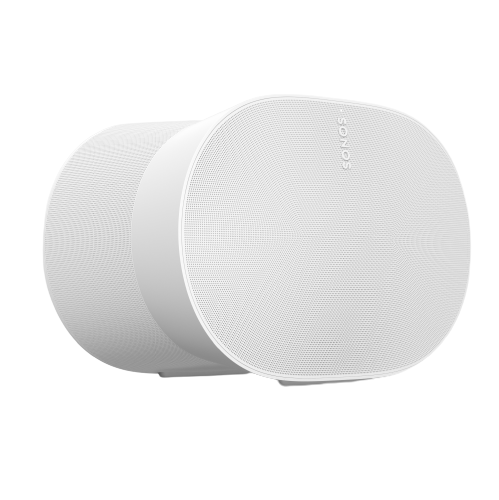 Sonos Era 300
The new flagship
The Era 300 is a big, expensive, stationary speaker that introduces Dolby Atmos support to Sonos' range of music-focused speakers. With four directional tweeters and two woofers, the Era 300 can fill a room with accurate sound that's also warm and super musical. And it also works with spatial audio, if that's what you're into. At $449 it's not cheap, but along with line-in and Bluetooth support, it's Sonos' most versatile speaker ever.
Era 100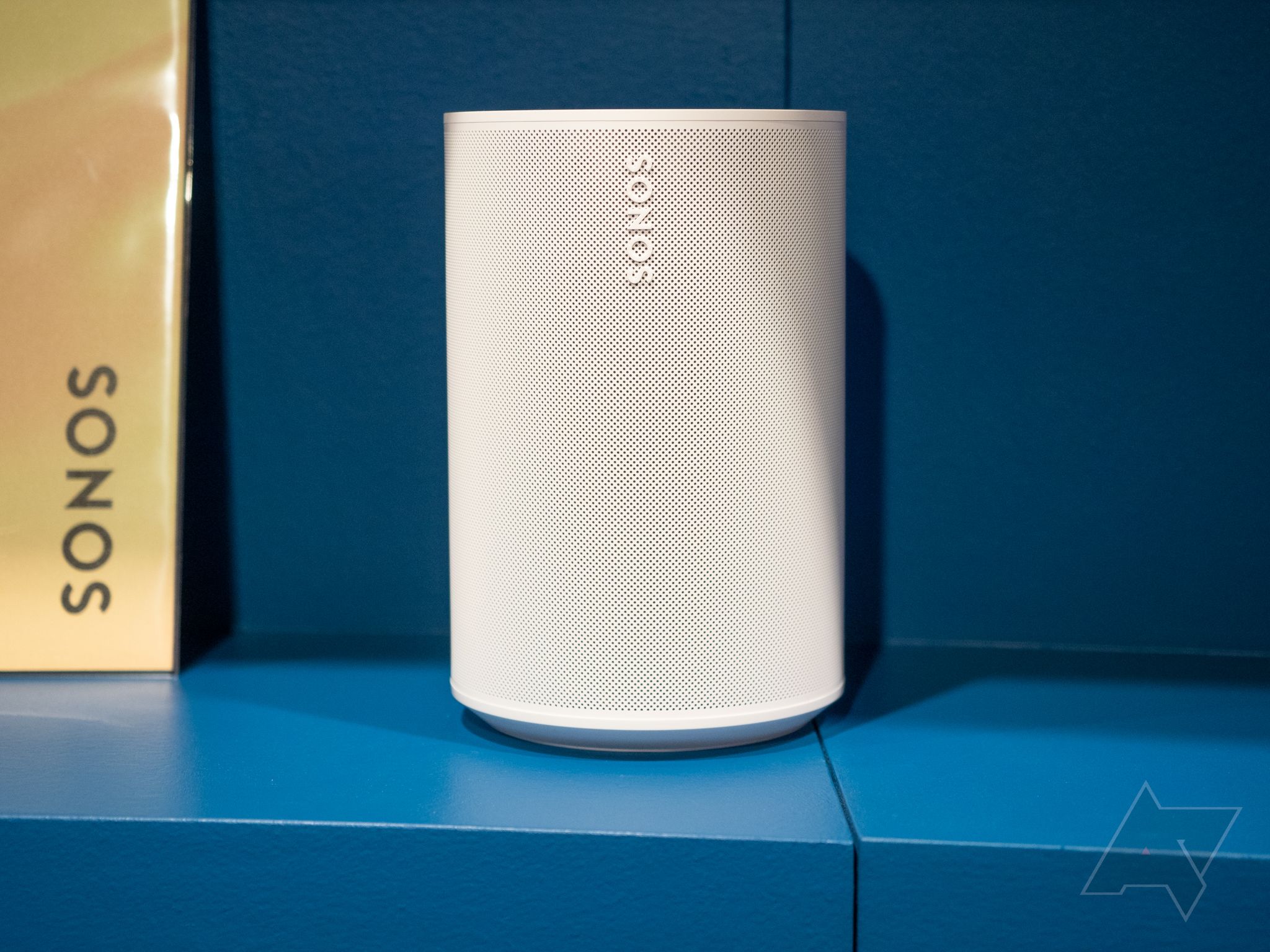 The Era 100 is considerably cheaper – and less interesting. It's a direct visual and spiritual successor to the Sonos One, which has been around in one form or another for nearly six years. While it doesn't support spatial audio like its more expensive Era 300 counterpart, it does offer good stereo reproduction via two angled drivers on either side of the rounded body, along with a larger woofer that generates significantly more low-end than its predecessor.
Like the Era 300, it supports line-in and Ethernet via an adapter, as well as built-in Bluetooth support and, thankfully, a dedicated pairing button on the back. Its 4.44-pound weight lends credence to its sturdiness, like all Sonos products, and it shares its new capacitive volume control and improved beamforming microphones with its co-announcer.
I had significantly less time to listen to the Era 100 than the 300 during my demo, but Jeff Derderian, Sonos' VP of Product Program Leadership, assured me that there's a lot more going on in the speaker than the Sonos One, even though it about the same size. For anyone looking to replace their aging Play:1 – I still have a few that work just fine – this is going to replace the previous speaker in the company's lineup. There's also Wi-Fi 6 support in both new speakers, along with Bluetooth 5.0 and the aforementioned AirPlay 2 and Alexa compatibility, all of which were missing from Sonos' pre-S2 lineup.
At $249, the Era 100 seems to be the right price for those looking for an affordable connected speaker that disappears into most corners of the room, and isn't too expensive to rule out buying a pair for a decent sound stereo . It will also be available on March 28 in white or black colorways.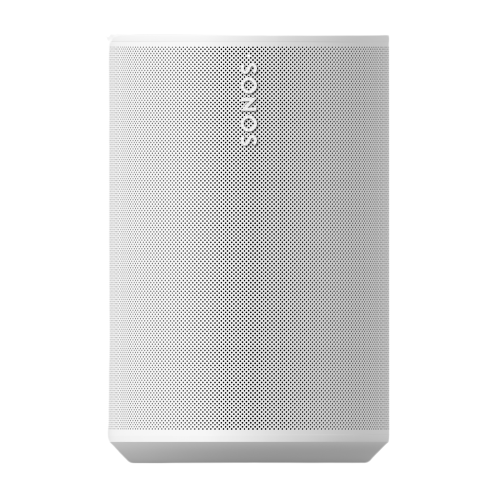 Sonos era 100
The long awaited upgrade
The Sonos Era 100 is the official successor to the highly popular Sonos Play:1 and Sonos One speakers, with two side-firing speakers and a woofer to improve the sound over its predecessors. With Bluetooth and line-in support, along with upgraded internals and a slightly higher $249 price tag, this is the upgrade people have been waiting for.
Finally, and this will be welcome news for Android users, both speakers support auto-Trueplay, meaning it's not just iPhone users that can benefit from improved EQ. The speakers use the internal microphones to test for reflectivity in a room and adjust their sound profiles accordingly.