Samsung launched the Galaxy S23 Ultra, its latest flagship smartphone, in February. The S23 Ultra is very similar to the S22 Ultra, but has a 200-megapixel wide-angle lens that supports 8K video capture. Since the S23 Ultra is a direct competitor to Apple's iPhone 14 Pro Max, we thought we'd take a look at both smartphones and see how they compare.
The Galaxy S23 Ultra is a 6.8-inch smartphone with an OLED display, so it's quite similar to the 6.7-inch ‌iPhone 14 Pro‌ Max. However, Samsung uses a punch hole cutout for the front camera, so there's more available viewing area on the S23 Ultra as it doesn't have a notch. Both support maximum 120Hz refresh rates, but the smoothing looks more dramatic on the S23 Ultra

Samsung uses a more square design with thin bezels, so these two smartphones don't look much alike. The screen has less curvature than the previous generation model, and while it's large, the flat screen and straight frame make it comfortable to hold. There's also an S-Pen stylus that can be used with it, which Apple doesn't offer. The S-Pen is useful for taking notes, but it's more of a niche feature than something that appeals to all users.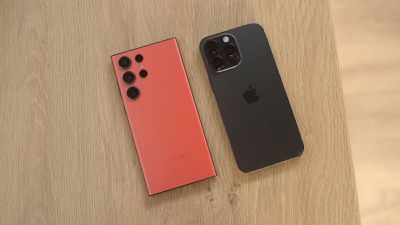 There is a triple-lens camera on the back and Samsung has introduced a 200-megapixel wide-angle lens, while the ‌iPhone 14 Pro‌ Max has a 48-megapixel lens. With high-end smartphones, it's often hard to pick a clear winner in terms of image quality, and it comes down to a preference for the color temperature and built-in processing that smartphone manufacturers do.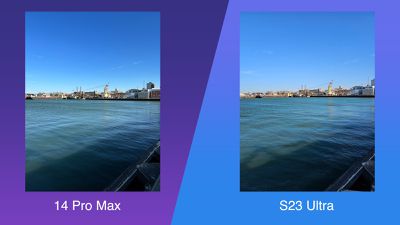 When it comes to video quality, Apple's iPhones usually win, but Samsung made some improvements this year. The 8K video is impressive and there are notable stabilization improvements on the Galaxy S23. It's much more difficult to tell the difference in video quality between the two smartphones with the S23 Ultra.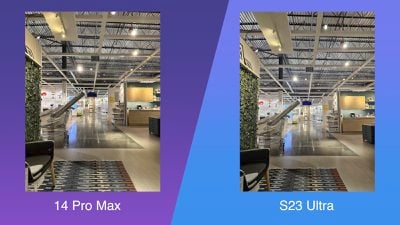 Photos taken with the main lens look great on both phones in good lighting conditions, despite the difference in megapixels. With the S23 Ultra you can choose from 50 or 200 megapixels and you get more detail, but at the expense of storage space. The ultrawide lenses are also comparable, but Samsung is the clear winner when it comes to zoom options. The Galaxy S23 Ultra has 10x optical zoom and up to 100x digital zoom, although it doesn't look great after about 30x. Apple's ‌iPhone 14 Pro‌ Max comes out with 3x optical zoom, but that's about to change with the iPhone 15 Pro Max.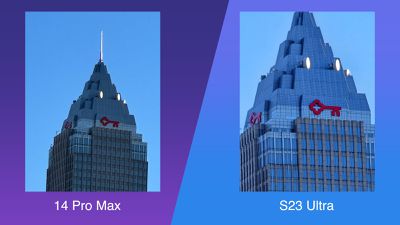 Portrait mode on both smartphones is impressive. The S23 seems to do better with detail in people shots and has better background blur, but can be too soft. The iPhone is better in skin tone.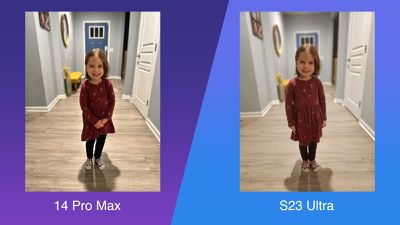 In the end, operating system preference is much more important than smartphone feature set at this level. If you're an iOS user, you probably won't want to switch to Android, and vice versa, no matter how many standout features are offered.
What do you think of the Samsung S23 Ultra? Which smartphone photos do you prefer? Let us know in the comments below.